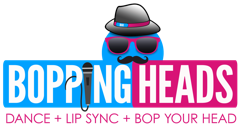 BOPPING HEADS IS PERFECT FOR:
• Weddings • Bar/Bat Mitzvahs • Corporate Events • Fairs & Festivals
• Fundraisers • Birthdays • Holiday Parties • School Events • Graduations • Team Parties
• Retirement Parties • Anniversaries • Proms • Theme Parties • Bachelor/Bachelorette Parties
• College Parties • Sweet 16 Parties • Charity Events • New Year's Eve Parties • Pool Parties
Thank you for your interest in Bopping Heads. Bopping Heads is a unique entertainment experience that allows you to become the star of your very own music video in just minutes! The best part is no talent required!
Bopping Heads is always a huge hit at every party. Crowds love to gather around and watch the action and see the finished product in real time as it is being filmed. Bopping Heads creates a fun experience that your guests will be able to take with them on a DVD and share with others for years to come.
The way it works is you pick out a song. Then you choose from a large variety of props. We have close to 150 plus party props for you and your guests. Once you have the look you want, you can take a seat in front of the green screen where you and up to three other friends will lip sync, dance your head, or just make funny faces as the song plays and your head will be placed on the bodies of professional dancers with a moving background. seconds after you are done filming your very own music video your DVD will be ready to go and you can walk away a rock star!
Bopping Heads is the perfect attraction for any party or gathering. Guests of all ages will love the experience and get a great laugh from making a video with their family and friends!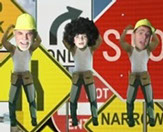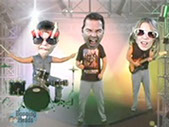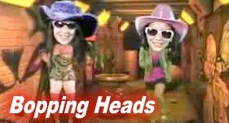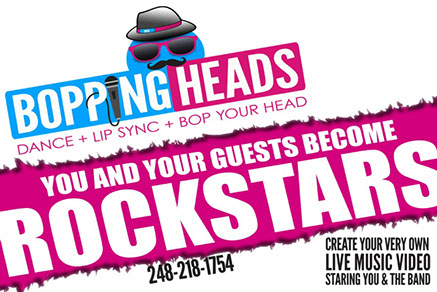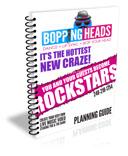 CALL NOW FOR YOUR
FREE PLANNING GUIDE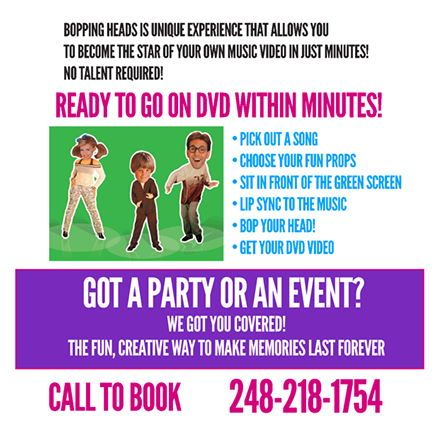 Check out our hilarious videos on You Tube